Development of a larger reformer
Over the last months, we have been working on product improvements for our Biomass CHP reformer. Working with our customers we have developed a larger, intensified upper component for the reformer.
Different customers have tested more than 10 experimental reformers with great success and we have now incorporated this reformer into the series.
We would like to explain the requirements when the use of the new reformer is recommended:
For units with a demand of 45 kW or more.
At high reformer temperatures> 650 ° C, when the temperature sensors are set to the default temperature. In this case, the oxidation zone already occupies a very large space in the direction of the inner wall of the reformer, which leads to a markedly elevated temperature load.
Use of fragmentary wood chips with a small fine content and a high degree of drying <<10%.
High performance, mainly with the 8 L engine, leads to larger gas reductions and thus to a temperature rise in the reformer.
The following variants are available:
Conversion kit for unit v1.0 (pre-face-lift) T102450
Conversion kit Reformer upper part for unit v1.1 (face-lift) T110990
Complete reformer including all attachments v1.1 (face-lift) T110999
Please contact us if you are interested in an installation..
The delivery time is approx. 6 weeks. Please go to our Shop page to order.
Spanner innovative HKA 70
More power, lower fuel requirements and new, intelligent control software – the innovative biomass CHP "HKA 70" is the new generation of wood-based CHP plants from Re². For more information please contact us.
Re² EnergyBlock – Innovative. Flexible.
Cogeneration of heat and power from regional resources like wood becomes even easier with the EnergyBlock. The ingenious system includes a wood gasifier unit, a combined heat and power unit and an intelligent control system. All components are perfectly matched to each other in a 20 or 40-foot container.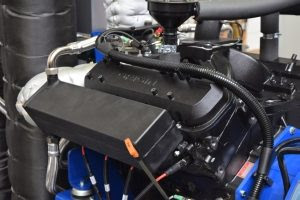 New standard engine runs at 3,000 rpm!
All you have to do is change the 4 spark plugs every 400 hours a regularly apply oil, that's it! Now you can easily achieve over 15,000 hours of engine running time with 3,000 rpm. An outstanding performance – and that with a total average of 51 kWel and 118 kWth.